دوستان عزیز برای کسب اطلاعات بیشتر و نحوه خرید با شماره 09155230172 و یا 09379686880 تماس حاصل نمائید.
NeuroKinetic Therapy: An Innovative Approach to Manual Muscle Testing
Author:
David Weinstock
Publisher:
North Atlantic Books; Original edition (Jan 12 2010)
Language:
English
ISBN-10:
155643877X
ISBN-13:
978-1556438776
Format:
PDF
Size:
13.7 MB
Product Description
NeuroKinetic Therapy is based on the premise that when an injury has occurred, certain muscles shut down or become inhibited, forcing other muscles to become overworked. This compensation pattern can create pain or tightness. By applying light pressure that the client then resists, the practitioner can evaluate the strength or weakness of each muscle, revealing the sources of injury and retraining the client's body to remove the compensation patterns—reprogramming the body at the neural level.
This easy-to-follow practitioner's manual presents a series of muscle tests specially designed to uncover and resolve compensation patterns in the body. Author David Weinstock begins by explaining how this approach stimulates the body and mind to resolve pain. Organized anatomically, each section of the book includes clear photographs demonstrating correct positioning of the muscle accompanied by concise explanations and instructions. Labeled anatomical illustrations appear at the end of each section showing the relationships between the muscles and muscle groups. This essential resource is especially useful for physical therapists, chiropractors, orthopedists, and
massage
therapists looking for new ways to treat underlying causes of pain
---
Conquering Headache: An Illustrated Guide to Understanding the Treatment and Control of Headache, 4th Edition
Alan M. Rapoport, Fred D. Sheftell, Stewart J. Tepper
Product Details
Paperback: 148 pages
Publisher: Decker DTC; 4th Revised Edition (June 1, 2003)
Language: English
ISBN-10: 1550092332
ISBN-13: 978-1550092332
PDF
8 Mb
Product Description
Conquering Headache, Fourth Edition provides the information needed to conquer headaches and improve the quality of life. This new edition includes chapters detailing the latest information about medication for acute treatment of attacks, preventative treatment of migraine and treatment of cluster headache. The book covers areas of
massage
, physical therapy, alternative therapies such as chiropractic, acupuncture, and natural remedies like vitamins, minerals, and herbs. Practical guidelines for medication use including dosages, side effects, and limitations are also incorporated in this new edition.
---
The Bodywork and

Massage

Sourcebook Andrew S. Levine, Valerie J., Ph.D. Levine
Product Details

* Paperback: 336 pages
* Publisher: Lowell House; 1 edition (August 1, 1999)
* Language: English
* ISBN-10: 0737300981
* ISBN-13: 978-0737300987
* PDF
* 1.43 Mb
Product Description
(Lowell House) Somerset School of
Massage
Therapy, NJ. Discusses the benefits of Swedish
massage
, Reiki, shiatsu, Trager, and Feldenkrais. For consumers. Softcover.
---
Stretching Therapy For Sport and Manual Therapies
by Chaitow, Leon,Ylinen, Jari,Juhani,Hill, Sandie,Nurmenniemi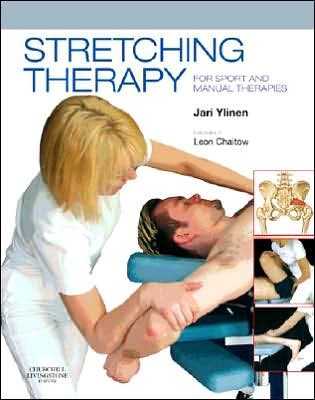 ISBN:0443101272
ISBN13:9780443101274
EDITION:1
PUBLISHER:Elsevier Health Sciences
PUBLISHED:November 01, 2007
PAGES:286
This practical resource examines the research, theory, and practice associated with stretching therapy. Anatomical illustrations and clear descriptions make it easy to learn which muscles are affected by specific treatment techniques. Full-color photographs show correct positioning of the patient and the therapist, with explanations of each movement on the same page or two-page spread.
---
The

Massage

Connection: Anatomy and Physiology, 2nd Edition (Lww

Massage

Therapy & Bodywork Series) Author:

Kalyani Premkumar

Code:
URL: http://www.amazon.com/exec/obidos/redirect?tag=songstech-20&path=ASIN%2F0781734762

Product Details
pages:
704 pages
Publisher:
Lippincott Williams & Wilkins
ISBN:
0781734762
Average Customer Review:
N/A
Format:
PDF
Size:
Supplier:
Summary:
This is the anatomy and physiology text written especially for students and practitioners of
massage
therapy. This edition integrates
massage
therapy concepts within the anatomy and physiology content, including sections that discuss how
massage
interacts with the body systems. The book covers all of the major body systems--integumentary, skeletal, muscular, and nervous systems--that are crucial to effective
massage
therapy, and provides an overview of other body systems to give students a well-rounded understanding of anatomy and physiology
---
Thai

Massage

Manual: Natural Therapy for Flexibility, Relaxation, and Energy Balance

By Maria Mercati
* Publisher: Sterling
* Number Of Pages: 144
* Publication Date: 2005-08-28
* ISBN-10 / ASIN: 1402728514
* ISBN-13 / EAN: 9781402728518
Product Description:
Thai
Massage
is the touch that enhances health, happiness, and wholeness--and with more than 150 expertly demonstrated sequences unfolding on these pages, everyone can enjoy its benefits.
Sometimes called "yoga in action," Thai
massage
has worked its relaxing wonders for more than 1,000 years. Explore its secrets with a detailed program that includes ten complete lessons, each concentrating on a particular part of the body. Like other forms of
massage
, it employs a flowing sequence of stretches, but instead of using only your fingers, pressure is applied with the thumbs, palms, elbows, knees, and feet. Full-color photographs of every move match still shots with superimposed artwork that indicate the direction of the movements. Each technique is clearly explained and its benefits--from improved flexibility to increased vitality--detailed.
"All of the techniques are shown in sharp color photographs that are pleasing to the eye. Descriptions of the techniques are clear."--Massage Therapy Journal
---
Deep Tissue

Massage

and Myofascial Release: A Video Guide to Techniques Actors:

C.M.T. Art Riggs Certified Advanced Rolfer

URL:

HTML Code:
http://www.amazon.com/Deep-Tissue-Massage-Myofascial-Release/dp/B0000AJ0ES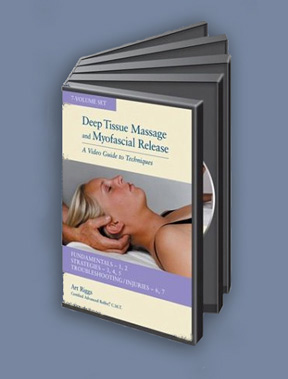 # Format:

Color, MPEG 4

# Number of discs:

7

# Length:

each 1:40:00

# Studio:

Audio Video Consultants

# DVD Release Date:

June 15, 2003

# ASIN:

B0000AJ0ES

# language:

English

# size:

aprox. 700 MB each

Product Description

This seven volume Video series is designed as a full Deep Tissue Course which will be extremely useful to individual therapists wishing to expand their myofascial and therapeutic skills and the way they work with tissue. In addition to the complex issues of soft tissue restrictions, osseous articulations and neurological patterns, this series clearly demonstrates countless strokes and strategies. More importantly, it conveys the qualitative art of working with tissue to effect profound change.

SECTION I (Videos 1 & 2) "FUNDAMENTALS"

- Palpation and Cultivation of Touch-Working with Layers of the Body

- Body Biomechanics - How to Properly Use Fingers, Knuckles, the Fist, Forearm, and Elbow and Save Your Thumbs

- Purposeful Strokes- Strategies to Lengthen Tissue, Free Adhesions, and Release Holding Patterns

- Positioning of Your Client to Increase Effectiveness of Your Work - The Side-Lying Position to Dramatically Improve Your Effectiveness

SECTION II (Videos 3, 4 &5) "STRATEGIES OF DEEP TISSUE

MASSAGE

"

Hundreds of techniques and strategies covering the entire body

Video 3: Legs and Pelvis

Video 4: Continuation of the Pelvis, Rotators, Abdomen (Including the Psoas and Iliacus), and the Back

Video 5: Working with the Shoulder Girdle, Chest, Arms, and Neck

SECTION III (Videos 6 & 7) "ADVANCED TECHNIQUES AND STRATEGIES FOR COMMON COMPLAINTS AND INJURIES " (Videos 6 & 7)

- Foot/Ankle Injuries Including Sprains, Plantar Fasciaitis, Achilles Tendonitis

- Knee Pain and Dysfunction

- Sciatica

- Minor Back Pain

- Rotator Cuff

- Tennis Elbow and Wrist

- Thoracic Outlet

Helen James, Professor Emeritus Physical Therapy, California State University, Fresno
"...This video will be of great use for a range of bodyworkers, from

massage

therapists to sophisticated medical practitioners."

---
Massage

and the Original Swedish Movements Author:

Kurre W. Ostrom

Code:
URL: http://www.amazon.com/exec/obidos/redirect?tag=songstech-20&path=ASIN%2F1103693123

Product Details
pages:
200 pages
Publisher:
BiblioLife
ISBN:
1103693123
Format:
PDF
Size:
1.43 MB
This 194 page book was orginally published in 1905. This book is the sixth edition, revised and enlarged with 115 illustrations. This book covers the original Swedish movements and their application to various diseases of the body. Many illustrations. Absolutely fascinating! A must have for anybody that is interested in
massage



---
Orthopedic

Massage

: Theory and Technique, Second Edition

By

Whitney W. Lowe LMT
•Publisher: Churchill Livingstone
•Number Of Pages: 320
•Publication Date: 2009-04-06
•ISBN-10 / ASIN: 0443068127
•ISBN-13 / EAN: 9780443068126
Product Description:
Fully updated and revised Orthopedic
Massage
has been written for those interested in understanding and applying
massage
as an intervention for soft-tissue disorders. Recent research into the physiological effects of
massage
has strengthened the justification for its use in the treatment of soft-tissue pain and injury conditions. Orthopedic soft-tissue problems are common among the general population, whether from sports, occupational activities, or chronic pain. This text presents a comprehensive and in-depth look at the physiological nature of these conditions and the
massage
treatments most effective for their relief. A particular contribution this text makes is its validation for the role of
massage
in treating orthopedic conditions. In addition, it aims to help the clinician understand the relationship between the soft tissues to which they apply their techniques and the overall orthopedic disorder affecting their clients. Although written chiefly for
massage
practitioners, the lessons it teaches are relevant to any practitioner who is concerned with the treatment of soft-tissue injuries.
•Includes detailed technical information, extensive illustrations, and reliable reference material essential to everyday practice.
•Provides a comprehensive approach to treatment of common soft tissue pain and injury.
•Explains common orthopedic problems in detail, addressing biomechanics, kinesiology, and anatomy.
•Provides an in-depth discussion of the physiologic rationale for soft tissue treatments and explains those most effective for each condition.
•Integrates treatment approaches from across the field and gives detailed, easy-to-follow steps for their application.
•Compares traditional treatments with soft tissue manipulation for each problem discussed.
•Clearly links anatomy, physiology, and biomechanics with clinical practice.
•Designed for quick and easy reference with more than 200 high-quality full colour illustrations and numerous photos of treatment techniques.
•New clinical case studies and tips illustrate the techniques discussed.
•Now presented in full colour.
•New step-by-step photographs depict the techniques described in full detail.
•Increased artwork and photographs make learning more visual.

•Case studies demonstrate techniques and managment in clinical practice
Clincal hints and tips throughout.
•Greater guidance in treatment strategies to include 'Treatment Approaches' and 'Rehabilitation Protocol Considerations'.
---
Joya: Crystal

Massage

for Everyone Michael Gienger, Ulrich Metz
Publisher: Findhorn Press 2009-09-01
144 Pages
ISBN: 1844091686
PDF
3.4 MB
Intended to facilitate the ability to perform a crystal
massage
anywhere at anytime with no great skills required, this handbook is the companion to the Joya®
Massage
Roller, a revolutionary wooden implement that holds an easily changeable crystal ball, allowing it to spin freely and glide with ease over the skin. Including step-by-step
massage
instructions as well as information on how to treat particular problems and the effects of using different varieties of crystal, the guide teaches how to make the most of the Joya®
Massage
Roller to produce a truly profound
massage
.
---
Baby
Massage
Author:
Alan Heath / Nicki Bainbridge
Code:
URL: http://www.amazon.com/exec/obidos/redirect?tag=songstech-20&path=ASIN%2F1405304340

Product Details
pages:
96 pages
Publisher:
Dorling Kindersley Publishers Ltd
ISBN:
1405304340
Average Customer Review:
N/A
[b]Format
df
[b]Size:5.69 Mb
Set aside the daily chores and use this easy-to-follow guide to spend special time with your child. To a baby touch is talk, and through these soothing and relaxing techniques you and your child can share some of the most fulfilling and communicative moments. There are four chapters covering key techniques, everyday care,
massage
for different age groups and easing common problems.
Massage
will afford you a more intimate way to comfort, nurture and relax your baby.
---
Massage

for Therapists Author:

Margaret Hollis / Elisabeth Jones

URL:

[ame=http://www.amazon.com/exec/obidos/redirect?tag=songstech-20&path=ASIN%2F0632047887]Amazon.com:

Massage

for Therapists: Margaret Hollis, Elisabeth Jones: Books[/ame]
Product Details
pages:
164 pages
Publisher:
Wiley-Blackwell
ISBN:
0632047887
Average Customer Review:
N/A
Format:
Size:
Supplier:
Summary:
Bradford Hospitals School of Physiotherapy, UK. Brief, photographic manual of
massage
technique for students in physical therapy. New chapters are included on aromatherapy,
massage
in sport, and
massage
of the abdomen for the relief of constipation. Previous edition: c1987. Softcover
---
Massage

for Dummies



»Book Publisher: For Dummies (03 September, 1999)
»ISBN: 0764551728
»Book author: Steve Capellini, Michel Van Welden
»Amazon Rating: 3.0

Book Description:
"Everything you need to know about giving and receiving a

massage

."
—Jack Canfield, author, Chicken Soup for the Soul

"I recommend this book for everyone who would like to make the art of

massage

a part of their lives."
—John Gray, author of Men Are from Mars, Women Are from Venus

"…reveals dozens of healthy tips to help you achieve inner harmony, peace of mind, and an entirely new level of well-being…."
—From the Foreword by Robin Leach

What reduces pain, enhances athletic performance, job efficiency, and sexual function, improves the circulation, raises immune efficiency, promotes the healing of tissues, increases the functioning of the skin, enhances focus and emotional balance, improves appearance, is completely legal in all 50 states and Puerto Rico and can be had for as little as…nothing? Right,

massage

. So what are you waiting for?

Discover how to k nead your way to relaxation and wellness with this fun guide to the art of

massage

. With the help of 150 hand-on photos and illustrations, experts Steve Capellini and Michel Van Welden, show you, move by move, how to harness the healing power of touch. In no time you'll:
Master message basics
Give and receive a therapeutic

massage


Soothe away stress with self-massage
Alleviate sports aches and pains
Improve circulation and skin tone
Get intimate with

massage

for lovers

From Swedish to Shiatsu, sports

massage

to self-massage, Capellini and Van Welden cover an array of techniques and tell you how to:
Choose the right style of

massage

for you and your body and getting the most out the receiving a

massage


Knead, manipulate pressure points, shake, rub, stretch and perform all the basic

massage

moves and techniques
Give and receive special massages for the workplace, including reflexology foot massages
Perform sports

massage

, sensual

massage

, and specific massages for every age group and physical condition, including infant massages and

massage

for pregnant women
Become a

massage

professional

Sensitive, funny and extremely practical,

Massage

For Dummies shows you how to integrate

massage

and its incredible benefits into your everyday life.

---