دوستان عزیز برای کسب اطلاعات بیشتر و همچنین نحوه خرید با شماره 09155230172 و یا 09379686880 تماس حاصل نمایند.
Biomechanics

in

Sport

: Performance Enhancement and Injury Prevention

By Vladimir Zatsiorsky
* Publisher: Wiley-Blackwell
* Number Of Pages: 667
* Publication Date: 2000-12-15
* ISBN-10 / ASIN: 0632053925
* ISBN-13 / EAN: 9780632053926
* Binding: Hardcover
Product Description:
Biomechanics
in
Sport
is a unique reference text prepared by the leading world experts in
sport
biomechanics
. Over thirty chapters cover a broad spectrum of topics, ranging from muscle mechanics to injury prevention, and from aerial movement to wheelchair
sport
. The
biomechanics
of sports including running, skating, skiing, swimming, jumping in athletics, figure skating, ski jumping, diving, javelin and hammer throwing, shot putting, and striking movements are all explained
---
Title:
Sport
and Exercise
Biomechanics
Authors:
Paul Grimshaw, Adrian Lees, Neil Fowler, Adrian Burden
Paperback: 392 pages
Publisher: Taylor & Francis; 1 edition (11 Aug 2006)
Language English
ISBN-10: 185996284X
ISBN-13: 978-1859962848
Product Dimensions: 24 x 17.4 x 2.4 cm
Description:
Instant Notes titles focus on core information and are designed to help undergraduate students come to grips with a subject quickly and easily.
"Instant Notes
Sport
and Exercise
Biomechanics
" provides a comprehensive overview of the key concepts in exercise and
sport
biomechanics


---
Title:Biomechanical Evaluation of Movement in

Sport

and Exercise: The British Association of

Sport

and Exercise Sciences Guide (Bases

Sport

and Exercise Science)

By

Carl Payton: Ro

--------------------------------------------------------------------------------

Publisher: Routledge

Number Of Pages: 218

Publication Date: 2007-12-03

ISBN-10 / ASIN: 0415434696

ISBN-13 / EAN: 9780415434690

Binding: Paperback

or

Publisher: Routledge

Number Of Pages: 218

Publication Date: 2008-01-11

ISBN-10 / ASIN: 0415434688

ISBN-13 / EAN: 9780415434683

Binding: Hardcover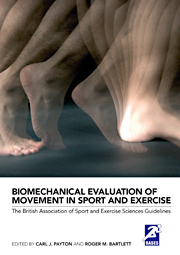 Description:
This book, published in association with BASES (the British Assocation of
Sport
and Exercise Sciences), is the only up-to-date, practical guide to using the range of
biomechanics
movement analysis machines, equipment and software available today. It includes detailed explanations of the key theory underlying
biomechanics
testing, along with advice concerning choice of equipment and how to use your laboratory equipment most effectively. Written by leaders of the field, Bartlett and Payton, detailed study is given to: motion analysis using video and on-line systems measurement of force and pressure in the laboratory and field measurement of power using isokinetic dynamometry electromyography computational simulation and modelling of human movement research methodologies, data processing and data smoothing. Contributors include world leading researchers and pioneers such asVasilios (Bill) Baltzopoulos, Adrian Burden, John H. Challis, and computer modelling maestro Fred Yeadon.
Sport
and Exercise
Biomechanics
Testing Guidelines is a must-have text for all
biomechanics
laboratories and students undertaking research
---
Title:
Sports
Biomechanics
: Reducing Injury and Improving Performance
Author:
Roger Bartlett
Hardcover: 276 pages
Publisher: Spon Press; 1 edition (July 27, 1999)
Language: English
ISBN-10: 0419248102
ISBN-13: 978-0419248101
Product Dimensions: 9.8 x 7.6 x 0.9 inches
Shipping Weight: 1.9 pounds
Description:
This book examines such topics as biomechanical analysis, optimization of sports techniques and the
biomechanics
of musculoskeletal injury. This is an invaluable text for readers interested in sports injury and therapy,
sport
science and
biomechanics
.
---
Swimming: Olympic Handbook of Sports Medicine (Olympic Handbook Of Sports Medicine)
Author:
Joel Stager, David Tanner
URL:
HTML Code:
http://www.amazon.com/exec/obidos/redirect?tag=songstech-20&path=ASIN%2F0632059141

Product Details
pages:
160 pages
Publisher:
Wiley-Blackwell
ISBN:
0632059141
Format:
PDF with bookmarks and page links in Contents & Index ; RAR 13.1 MB
Size:
14.3 MB
Supplier:
Summary:
The long awaited new edition of Swimming updates the highly successful first edition edited by Costill, Maglishco and Richardson which was published in the early 1990s. The Second Edition contains less material on how to swim and more on the physics of swimming. It contains information on the latest methods of analyzing swim performances.
It presents current sports science knowledge specifically relevant to coaching swimmers at club, county or national level. Covering characteristics of swimming including important concepts in propulsion, functional anatomy, physiology, biochemistry,
biomechanics
and psychology.
The
Handbooks of Sports Medicine and Science
present basic clinical and scientific information in a clear style and format as related to specific sports events drawn from the Olympic Summer and Winter Games. Each Handbook is written by a small team of authorities co-ordinated by an editor who has international respect and visibility in the particular
sport
activity. Their charge is to present material for medical doctors who work with athletes, team coaches who have academic preparation in basic science, physical therapists and other allied health personnel, and knowledgeable athletes. Each volume represents up-to-date information on the basic biology of the
sport
, conditioning techniques, nutrition, and the medical aspects of injury prevention, treatment, and rehabilitation.
---
Sports Injuries Knee, 2nd Edition
CD ROM :
ISBN 9781904369516
An essential reference for anyone involved in the diagnosis and treatment of knee injuries.
Sport
Injuries: The Knee 2nd Edition provides both a complete and accurate anatomical reference, in stunning 3D, and a comprehensive guide to acute and chronic overuse injuries of the knee.
Anatomy Section:
A high resolution 3D computer graphic model of the complete anatomy of the knee.
Choose from a variety of different views of the model, rotate at any point and peel away layers of anatomy from skin through to bone.
Clicking on any features or structures within the model brings up extensive anatomy, clinical and pathology text supported by hundreds of colour diagrams, videos and slides.
Injuries section:
Relevant pathology, ligament tests, surgical treatment, conservative management and rehabilitation of many common and less common injuries of the knee.
Over 180 physiotherapy and
biomechanics
slides and videos this section gives unprecedented coverage of knee injuries.
Acute Injuries Section includes:
*
Meniscal tears.
*
Articular cartilage injury.
*
Fractures around the knee.
*
Patella tendon rupture.
*
Bursitis.
Overuse Injuries Section includes:
*
Anterior knee pain e.g. Patellofemoral joint syndrome.
* Lateral knee pain e.g. Iliotibial band friction syndrome.
* Posterior knee pain e.g. knee joint effusion.
* All with related slides and video clips.
This title is also available as part of the Sports Injuries Series. Three titles on one DVD covering:
* Shoulder
* Foot
* Knee
Benefits
* Aid to learning and teaching anatomy in 3D.
* Transform your presentations and lectures. Use easy edit functions to export any image or animation for your own use.
* Sports Injuries Section covers diagnosis, testing, treatment and rehabilitation of common acute and overuse injuries of the knee.
* Make teaching and learning enjoyable!
Detailed List of Views
* Knee - wide view
* Knee - close up view
* Popliteal fossa
* Tibial menisci
* Surface anatomy
* Cutaneous distribution
* Dermatomes
* Patella
Anatomy Section
* Bones
* Bone regions
* Muscle attachments
* Cartilage and menisci
* Ligaments
* Muscles and tendons
* Fascia
* Nerves
* Dermatomes
* Arteries
* Veins
* Surface anatomy
* Cutaneous nerve distribution
* Lymphatic system
* Ligament attachments
* Sheaths and bursae
Reviews
"Quite simply this product is excellent. For anyone involved in orthopaedics,
sport
medicine or physiotherapy this product is simply a must."
Dr Michael Hughes, MiArt Technology & Club Doctor, Macclesfield Town FC
Author(s)
* Paul M. Aichroth
Consultant Orthopaedic Surgeon, Knee Surgery Unit, Wellington Hospital, London, UK.
* Roger Wolman
Royal National Orthopaedic Hospital, Stanmore, UK.
* Tracy Maunder
Portland Physiotherapy Practice, UK
* Andrew Amis
Professor of Orthopaedic
Biomechanics
, Imperial College, UK
* Anthony Bull
ARC Lecturer in Biological Mechanics, Imperial College, UK
* Vishy Mahadevan
Reader in Anatomy, Royal College of Surgeons of England
Technical Specification
Single user licence
Format: CD-ROM
PC/Windows OS: Windows 98se, 2000, ME, XP
PC/Windows hardware: Pentium Processor or equivalent, 32MB RAM, 800x600 screen resolution, 16-bit colour.
Mac OS: Mac OS9.x - Mac OSX10.x
Mac OS Hardware: G4 Processor or greater, 32MB RAM, 16-bit colour
---
Low Back Disorders: Evidence-based Prevention and Rehabilitation, 2nd Edition
By
Stuart McGill
Publisher: Human Kinetics Publishers
Number Of Pages: 328
Publication Date: 2007-08-30
ISBN-10 / ASIN: 0736066926
ISBN-13 / EAN: 9780736066921
Product Description:
Access the latest research and applications to build effective prevention and rehabilitation programs for your patients or clients with Low Back Disorders: Evidence-Based Prevention and Rehabilitation, Second Edition. Internationally recognized low back specialist Stuart McGill presents original research to quantify the forces that specific movements and exercises impose on the low back, dispels myths regarding spine stabilization exercises, and suggests prevention approaches and strategies to offset injuries and restore function.
Low Back Disorders: Evidence-Based Prevention and Rehabilitation, Second Edition, presents a clear exposition of back anatomy and
biomechanics
and demonstrates how to interpret the latest research on low back involvement for clinical applications. The text also contains detailed information on injuries associated with seated work and
sport
and ergonomic issues related to manual handling of materials. With Low Back Disorders: Evidence-Based Prevention and Rehabilitation, Second Edition, you will
gain valuable information on measured loading of the back during specific activities and apply it to avoid common--but counterproductive--practices in back rehabilitation;
learn how to analyze each patient's or client's unique physical characteristics and lifestyle factors to tailor preventive measures and treatments to individual needs;
learn how to help patients and clients progress through the stages of rehabilitation: corrective exercise, stability or mobility, endurance, and strength; and
acquire the information necessary to design an effective injury-prevention program.
This fully updated second edition expands knowledge of low back disorders and best practices in several areas. Enhanced algorithms guide progressive therapeutic exercise, and specially designed patient assessment provocation tests aid you in determining the cause of back troubles, guide your choices in the best ways to eliminate problems, and improve the development of appropriate activities for functional gain. Whereas the first edition focused on increasing spine stability, the second edition provides new information on dealing with both regional instability or mobility and regional stiffness present in individuals where most of the motion occurs at a single spinal segment.
With an expanded repertoire of pain-free motion exercises and additional information on ways to find and adjust stabilization exercises, Low Back Disorders: Evidence-Based Prevention and Rehabilitation, Second Edition, offers you new tools to help your patients and clients achieve pain-free exertion.
The text includes exercises and activities that provide a solid foundation of physical work in preparation for more advanced activities in sports and occupations. Also, the process of transitioning into performance exercise is outlined with an explanation of the critical stages of the performance pyramid, including the design of appropriate corrective exercise, building joint and whole-body stability, enhancing endurance, training true strength, and transitioning to ultimate performance.
Low Back Disorders: Evidence-Based Prevention and Rehabilitation, Second Edition, presents foundational information and corresponding clinical applications in a clear, well-sequenced format. Part I builds your knowledge of lumbar function and injury. Part II demonstrates how to use this knowledge to build evidence-based injury-prevention programs by assessing risks, creating ergonomic interventions, and training personnel. Part III focuses on improving rehabilitation techniques, including specific diagnostic and provocative tests, with specific therapeutic exercises proven to enhance performance and reduce pain through a continuum from corrective exercise to stability and mobility, endurance, strength, and power.
Additionally, the text offers these practical features to guide your learning and inform your practice:
More than 475 photos, graphs, and charts support the research and the scientific basis for the text's conclusions.
More than 50 tests and exercises with step-by-step instructions help you develop successful programs for your patients and clients.
Special sections highlight how the anatomical, biomechanical, and research results can be applied to clinical situations.
Extensive discussions on individualizing treatment for clients or patients help you improve your assessment skills by learning what questions to ask and what avenues of investigation to pursue with each patient or client.
Reproducible handout sheets for each of the 25 basic rehabilitation exercises, which include photos and blank lines for instructions, enable the creation of instruction sheets tailored to the current needs and progress rates of each patient or client.
Cutting-edge research and evidence-based application strategies from the leading spine specialist in North America make Low Back Disorders: Evidence-Based Prevention and Rehabilitation, Second Edition, the authoritative text for study, care, and treatment of the low back. Its unique approach to back care will guide you in developing intervention, rehabilitation, and prevention programs to address the unique needs of each patient or client and develop a strong scientific foundation for your practice.
---